Formerly Adventure Golf Services – see more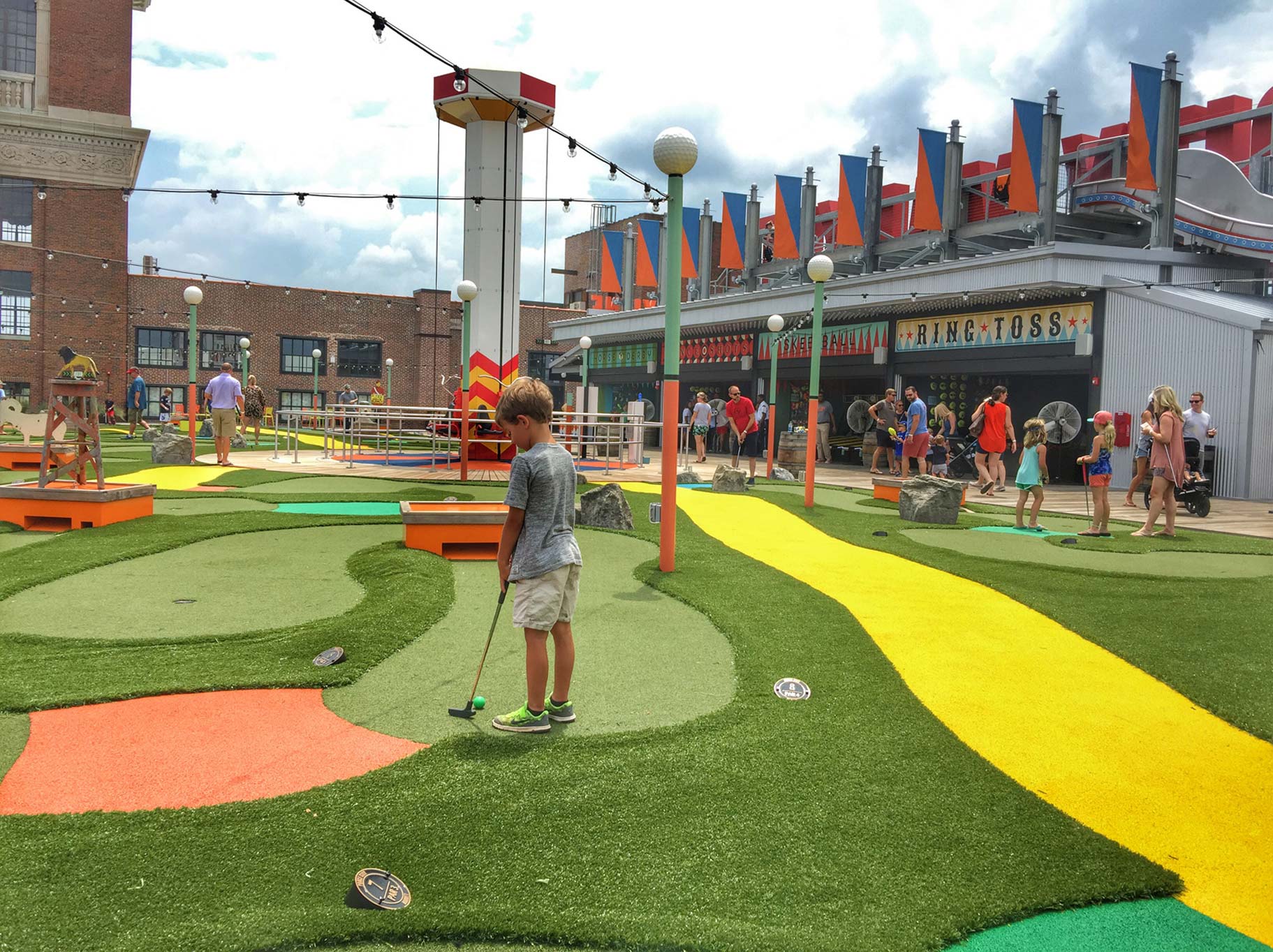 RETAIL CENTERS
& OTHER FACILITIES
From shopping malls, pop-up stores, active senior communities and colleges, AGS has designed and installed miniature golf courses and sport courts to bring family fun to your facility. Whether permanent, portable, indoors, outdoors or on rooftops, we can show you options for wherever you wish to play.
Miniature Golf for Retail Centers
Running a retail center or shopping mall has many challenges, but two are paramount:
2. KEEPING THEM ON SITE AS LONG AS POSSIBLE
Miniature golf courses from Adventure Golf & Sports can help you meet both challenges.
Mini golf's virtually universal appeal attracts attention – and customers – to your retail center. And playing a round of mini golf positions those customers to shop, buy food and beverages, and otherwise spend money at your center. Miniature golf is especially ideal for special events, pop-up stores, parties, or any temporarily unused space.
At Adventure Golf & Sports, we offer different sizes of miniature golf courses to fit your budget and your space. Whether permanent or portable, indoors or outdoors, or even on rooftops, our courses offer big fun and low overhead. We can even brand the course for your retail center. And we understand retail centers and shopping malls – we designed the first miniature golf course in the Mall of America. But you're not limited to just shopping centers and retail centers – we also serve the following markets:
Strip Malls
Athletic Centers
Student Housing
Active Senior Living Facilities
Restaurants
Office Buildings
Apartment Complexes
Rooftops
AGS has been an industry leader for more than 35 years, and we can build virtually anything you can imagine. Check out our products and services, then give us a call to discuss what we can do for you!
Upcoming Tradeshows
IAAPA Expo Europe
| BOOTH C-106
September 26, 2023 – September 28, 2023
Vienna, Austria
---
IAAPA Expo
| BOOTH 4869
November 13, 2023 – November 17, 2023
Orlando, FL
---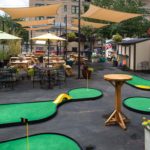 CHOICE
Providing several alternative routes to a golf hole. Over and under, around or through, in the water or down a fairway.
CHANCE
The chance of obtaining a hole-in-one on any golf hole and the chance that something unusual might happen to direct the ball to a hazard or area where the player can use another putt.
CHALLENGE
The concept that the challenge must be enjoyable for adults and children. If there is too much challenge, the course will fail.
MODULAR BENEFITS
AGS has developed a modular course system of patented interlocking panels that can be customized for any indoor, outdoor, or rooftop location!
Proprietary lightweight panel & anchoring system.
Base material is a patented interlocking, compression molded panel.

Durable
Weather resistant

Excellent drainage – no glue/adhesives on turf.

Provides a quick-dry, no mess surface

Contour/undulations created with special EPS (expanded polystyrene) between deck and panels.
Enhanced contours created with layered shaped rubber pads between panels.
Accessibility for rooftop inspections or service.
Can be easily dismantled and reinstalled.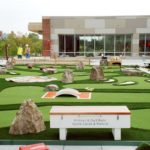 AGS Products & Services for Retail Centers & Other Facilities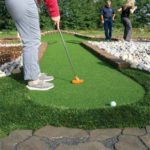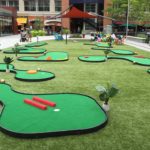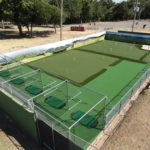 TESTIMONIALS
Waikiki Shopping Center – Hawaii

"We have gotten rave reviews from the course"

Waikiki Shopping Center

"On most buildings this would be just wasted space. We felt there was potential to use that (rooftop) space to expand the footprint of the building without expanding the building… It was a concept and a drawing, but until you see it built, I don't think we realized what we were getting. We didn't give them very much space and they came up with something very useable. We're really happy with the course."

"Adventure Golf was phenomenal to work with. I say that because this was a highly-complex design, for one; and they brought to bear their skill set to make that a reality. It's one thing to draw a picture on paper; it's another thing to have it be constructible in the field."

"Just wanted to let you know that the golf set up at our trade show last week was a huge hit. Thanks for helping us make this a successful event. Very easy set up and it only took a few of us a couple of hours. We didn't even use the screws and bolts to keep it together. We figured it would be ok for a short period of time and we were right."

LiveTV

Custom Modular – Legacy Marketing for Glenlivit

"I just wanted to thank you for all of your hard work and dedication to making The Glenlivet City Links program a success. As you know, when our client came to us last year with the concept of building an indoor, Scottish links style golf course that could be transported around the country on a mobile tour, we weren't quite sure where to begin. We looked at several other golf course builders and decided to go with Miniature Golf Services because of your passion for the project and years of experience in the field."

"We couldn't have been happier with the results. Your staff was able to build a golf course that went above and beyond our client's expectations, so much so that the program won an international award with their company for the best PR/Marketing program for the year (an honor that the U.S. component had never won before). This year, when we ran into an obstacle of fitting the course into a difficult space, your staff responded with a solution that was cost-effective and worked perfectly."

"Thanks again for everything. We really appreciate it and couldn't have done it without you!"

Legacy Marketing for Glenlivit

Academy of Natural Science

"As the Director of Exhibits for The Academy of Natural Sciences, I am pleased to report that the Planet Golf (now entitled Fore.' The Planet) educational and interactive miniature golf course exhibit that we created together in 1999 has now been hosted by numerous institutions, including the Carnegie Museum of Natural History in Pittsburgh, Pennsylvania, the Discovery Science Center in Santa Anna, California, and Moody Gardens in Galveston, Texas. And of course it had its premier here at The Academy of Natural Sciences.

The project has been a great success with thousands attending and having fun while being educated about natural science. Your company's participation was vital in developing a golf course that would be sufficiently light and robust for travel, and would also provide a challenging and satisfying game of miniature golf. You more than succeeded on all counts! I am pleased to recommend you to others seeking to build a creative and fun miniature golf course."

Academy of Natural Science

"Sales were. . . . almost double what I hoped for. Again, we cannot thank you enough for all your assistance…I know we paid for it, but you sincerely cared about getting everything right for us, and not everyone comes across like that."

"Great job on the course! It looks fantastic."

"I received the package today and I took a look at the docs. I am satisfied with everything. Anyway right now everything looks great. It was great doing business with your company."