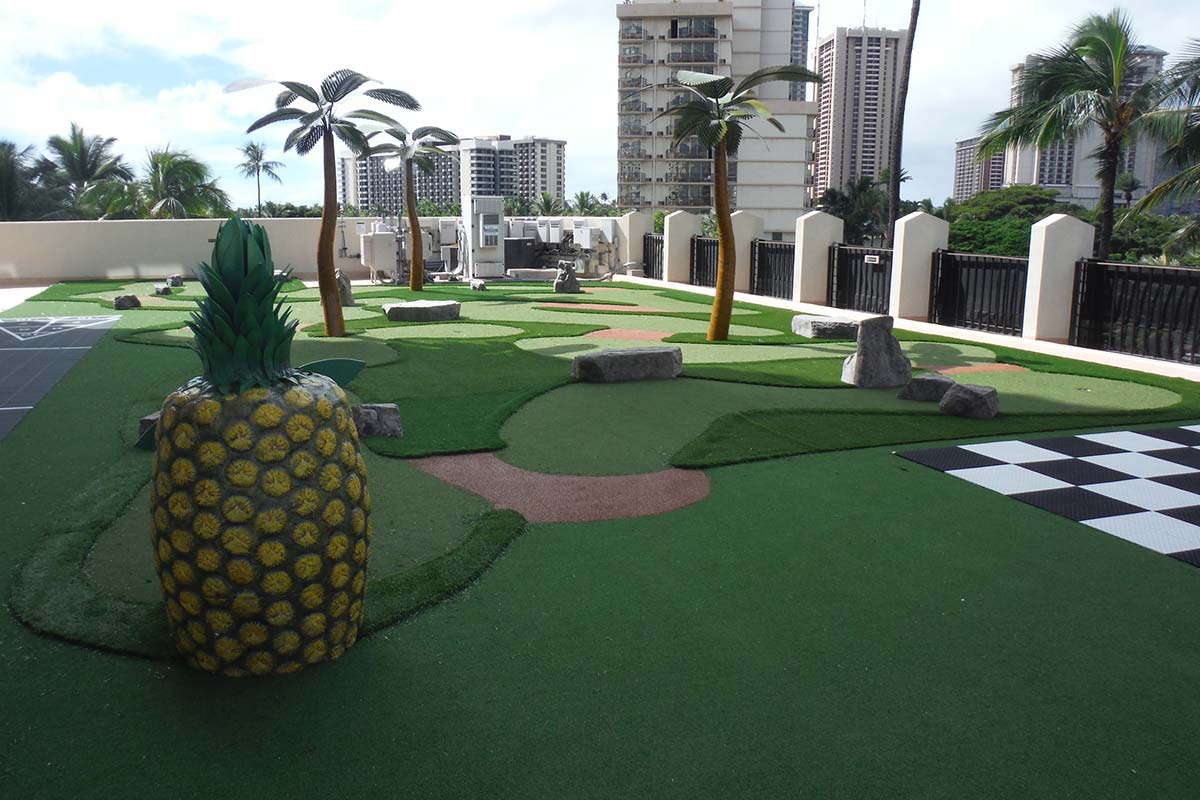 THEME ELEMENTS & OBSTACLES
Add More Fun with Our Mini Golf Course Theme Elements and Obstacles
Theme Elements
Part of the attraction and fun of many miniature golf courses is creating a unique environment.
Whether you're looking for idea starters or have a specific theme in mind, AGS can show you a variety of popular theme elements such as dinosaurs and other pre-historic animals; camels, bears, giraffes and other animals; jungle trees, fish, pirate ships, stagecoaches, footballs, rockets and more to help transport your players to another time or place.
Our talented designers and competent builders work together to give every miniature golf course its own theme and identity. We often custom design elements to match the theme of your course. The only limit is your imagination! Prices vary depending on the material, size and detail.
Obstacles
While the undulations and dog-leg turns of a course may provide some challenges, miniature golf often features specific obstacles on holes along with theme elements to add visual appeal and enhance the game experience.
You can choose from a full line of standard obstacles and theme elements or we can custom make virtually anything you can imagine.
Standard geometric shape obstacles in a variety of colors are made of HDPE (faux lumber) or heavy duty power coated aluminum for the ball to bounce off or around.
Options include:
Cylinder – Large & Small
Small Triangle
Using the above geometric shape items, we have several faux wood obstacle packages recommended for use with the Mini-Links Jr. Course, Mini Links 9-Hole Course and Mini-Links 18-Hole Course.
AGS has also designed a variety of specialty obstacles made from powder coated aluminum.
Options include:
Pachinko
Vortex
Loop de Loop
Skeeball
Return to Me
Bridges
While some obstacles come pre-produced, virtually everything can be customized to match the theme and colors of your course. For example, we custom designed helmets, a bridge based on a team logo and a variety of other obstacles for a course we designed and installed atop a university football center.
With theme elements & obstacles from Adventure Golf & Sports, you can transform your ordinary miniature golf course into a spectacular experience. Call us today!
Resource Links