Formerly Adventure Golf Services – see more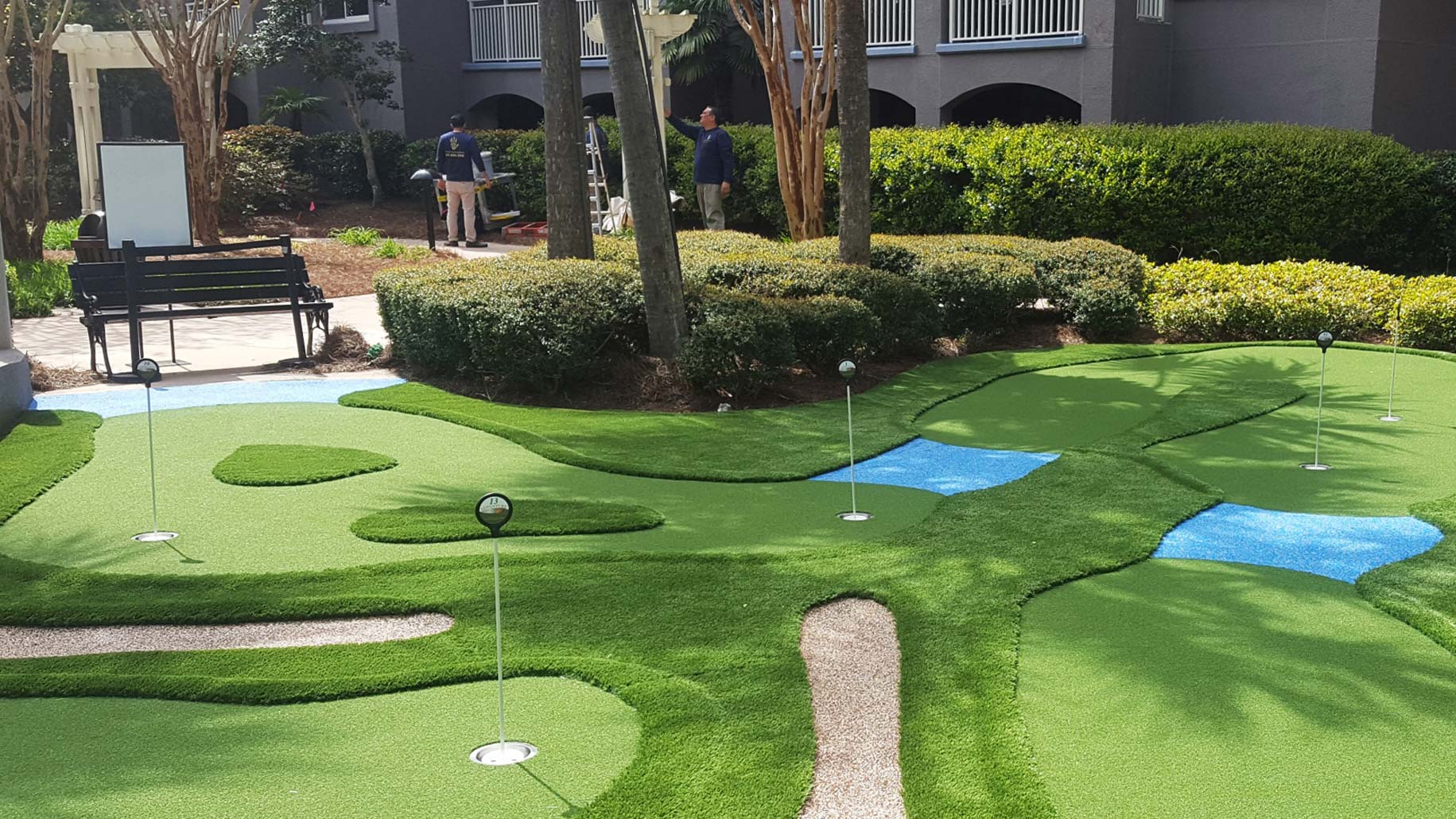 CITIES, PARKS &
CAMPGROUNDS
Miniature Golf for Parks and Campgrounds
Offering fun activities is key to attracting visitors to parks and campgrounds and to keeping them coming back over and over. Miniature golf courses from Adventure Golf & Sports are an amenity or profit center that appeals to people of virtually all ages and abilities, making them a powerful draw for city and state parks, RV parks, campgrounds of all types, military bases, and other venues.
At AGS, we offer different sizes of miniature golf courses to fit your budget and your space. Whether permanent or portable, our courses offer big fun and low overhead. We can even brand the course for your facility.
We also offer golf practice facilities and game court systems.
AGS has been an industry leader for more than 35 years, and we can build virtually anything you can imagine. Check out our products and services, then give us a call to discuss what we can do for you!
NRPA Annual Conference
| BOOTH 522
October 10, 2023 – October 12, 2023
Dallas, TX
---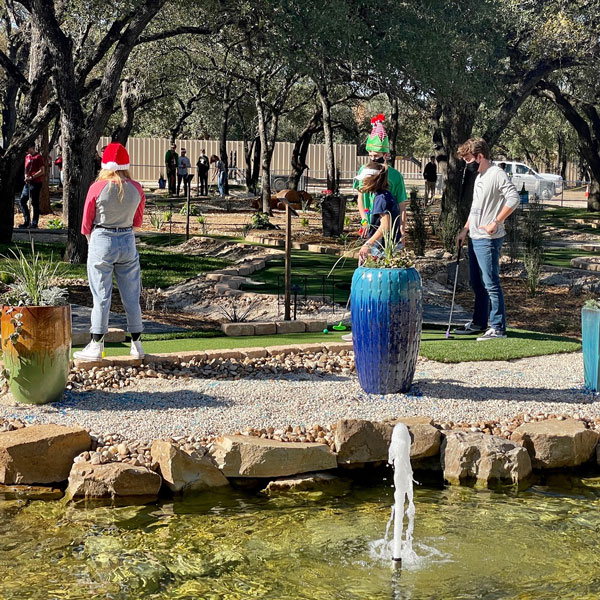 Every golf course should be thinking about mini golf — here's why
Public & private golf courses should be thinking bigger by going smaller. What better way to grow the game than with the on-ramp of miniature golf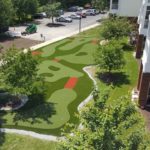 CHOICE
Providing several alternative routes to a golf hole. Over and under, around or through, in the water or down a fairway.
CHANCE
The chance of obtaining a hole-in-one on any golf hole and the chance that something unusual might happen to direct the ball to a hazard or area where the player can use another putt.
CHALLENGE
The concept that the challenge must be enjoyable for adults and children. If there is too much challenge, the course will fail.
COURSE DESIGN
Whatever kind of miniature golf course you want – adventure or landscape, permanent or portable, indoor or outdoor – Adventure Golf & Sports has the expertise and experience to build it right. We consider the following elements in every course we design:
Storyline or Theme
Topography and Vertical Interest
Water Elements
Signage and Wayfinding
Lighting
Landscaping
At AGS, we take great care to consider your available space, the local demographics, and your overall goals for your course's aesthetic.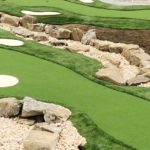 AGS Products and Services for Parks and Campgrounds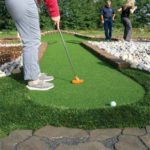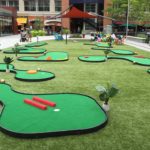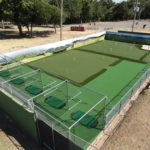 TESTIMONIALS
"It honestly was great to work with you. . . you were extremely responsive to our needs and concerns and made sure things went as smoothly as possible. I would recommend your services to anyone interested in design and construction of an exciting miniature golf course. Thanks for all your service before, during and after. We really appreciate it."

City Of Richfield, Minnesota

"Just wanted to let you know that the golf set up at our trade show last week was a huge hit. Thanks for helping us make this a successful event. Very easy set up and it only took a few of us a couple of hours. We didn't even use the screws and bolts to keep it together. We figured it would be ok for a short period of time and we were right."

LiveTV

"The South Suburban Parks and Recreation District had solicited request for proposal several months ago nationwide for the construction and design of a 36 hole miniature golf course. We received probably a dozen or so proposals of which we interviewed 6 companies. Adventure Golf Services, we were very impressed with their portfolio of past experience and their design people on staff are very helpful in working with us to achieve what we were looking for."

South Suburban Parks and Recreation District

Custom Modular – Legacy Marketing for Glenlivit

"I just wanted to thank you for all of your hard work and dedication to making The Glenlivet City Links program a success. As you know, when our client came to us last year with the concept of building an indoor, Scottish links style golf course that could be transported around the country on a mobile tour, we weren't quite sure where to begin. We looked at several other golf course builders and decided to go with Miniature Golf Services because of your passion for the project and years of experience in the field."

"We couldn't have been happier with the results. Your staff was able to build a golf course that went above and beyond our client's expectations, so much so that the program won an international award with their company for the best PR/Marketing program for the year (an honor that the U.S. component had never won before). This year, when we ran into an obstacle of fitting the course into a difficult space, your staff responded with a solution that was cost-effective and worked perfectly."

"Thanks again for everything. We really appreciate it and couldn't have done it without you!"

Legacy Marketing for Glenlivit

Academy of Natural Science

"As the Director of Exhibits for The Academy of Natural Sciences, I am pleased to report that the Planet Golf (now entitled Fore.' The Planet) educational and interactive miniature golf course exhibit that we created together in 1999 has now been hosted by numerous institutions, including the Carnegie Museum of Natural History in Pittsburgh, Pennsylvania, the Discovery Science Center in Santa Anna, California, and Moody Gardens in Galveston, Texas. And of course it had its premier here at The Academy of Natural Sciences.

The project has been a great success with thousands attending and having fun while being educated about natural science. Your company's participation was vital in developing a golf course that would be sufficiently light and robust for travel, and would also provide a challenging and satisfying game of miniature golf. You more than succeeded on all counts! I am pleased to recommend you to others seeking to build a creative and fun miniature golf course."

Academy of Natural Science

"Sales were. . . . almost double what I hoped for. Again, we cannot thank you enough for all your assistance…I know we paid for it, but you sincerely cared about getting everything right for us, and not everyone comes across like that."

"We are very pleased with the design and construction of the miniature golf course. I want to thank you for your help in making this project such a success…and for an excellent job."

Pekin Park District, Pekin, IL

"I received the package today and I took a look at the docs. I am satisfied with everything. Anyway right now everything looks great. It was great doing business with your company."