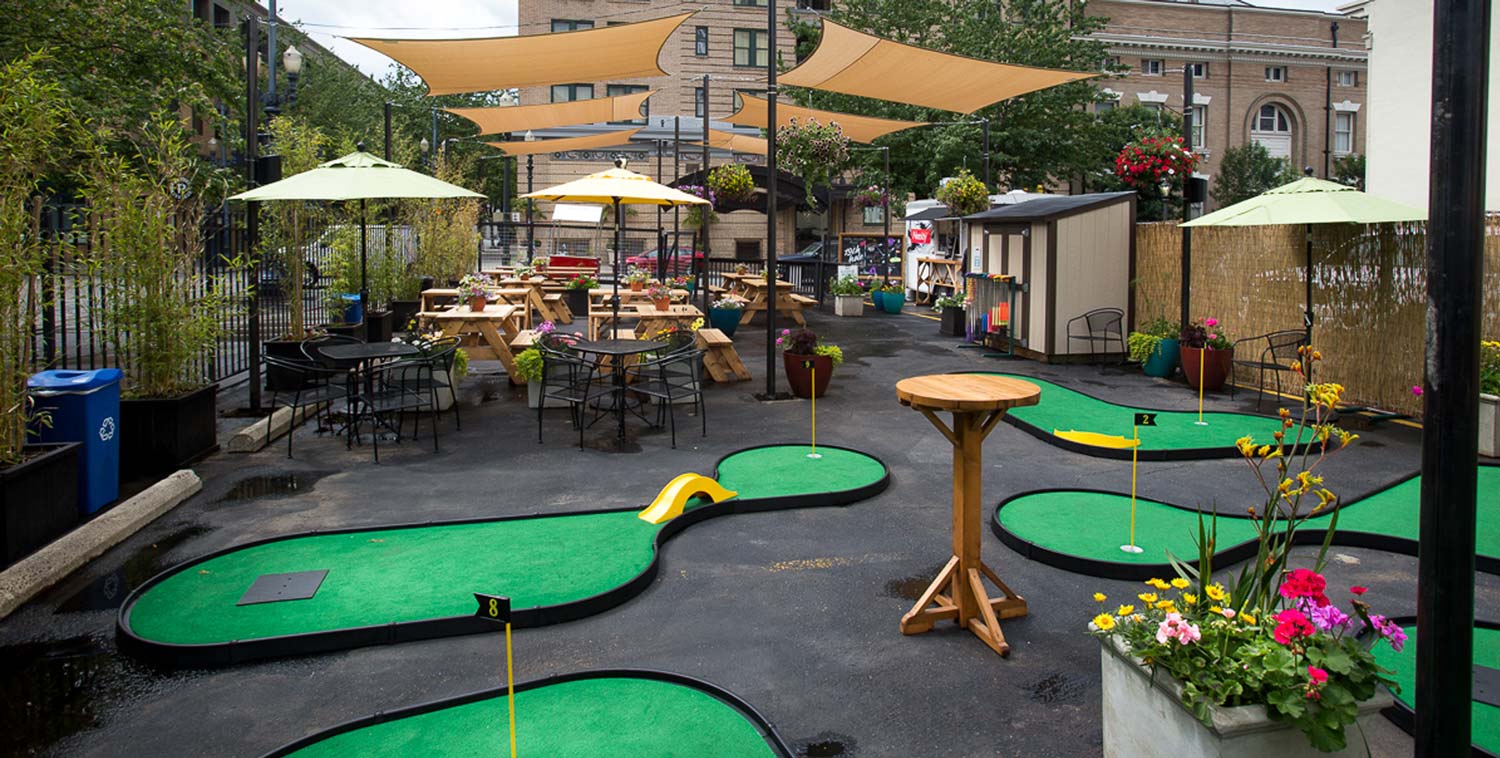 Modular Mini Golf Courses Offer Many Advantages
Want a miniature golf course that you can easily assemble, move, and store? Portable, modular courses from Adventure Golf Services are the answer.
We offer six different modular courses, providing options for all spaces and budgets. All six courses use our patented interlocking panel system, and are designed for indoor and outdoor use.
Modular miniature golf is the perfect solution for restrictive spaces that require a lighter-weight application such as:
Rooftops
Deck spaces on cruise ships and riverboats
Pier structures on beaches and over waterfronts
Confined rooms and "chopped up" spaces
Their flexibility also makes modular courses ideal for:
Family entertainment centers
Shopping centers, malls, and retail businesses
Hotels and resorts
Campgrounds
All kinds of parks
Military bases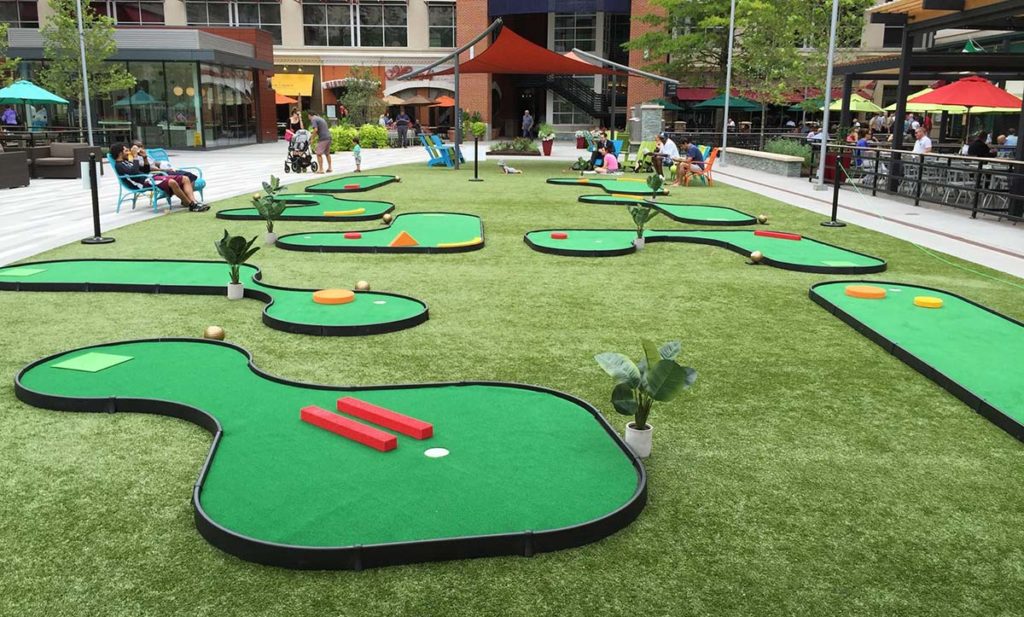 A modular course can have all the fun and features of a permanent concrete course – topography (either natural or artificial), waterfalls, streams, ponds, themed scenes, landscaping, obstacles, and more.
Owners can assemble and install the modular courses themselves or Adventure Golf can provide a professional installation crew.
All of our modular courses are portable except AnyWhereLinks Jr.® Here are the courses and the space they require:
MiniLinks™ Jr.

9 holes: 1,200 square feet

18 holes: 2,400 square feet

MiniLinks™

9 holes: 1,500 square feet

18 holes: 3,000 square feet

Little Duffer® – A low cost indoor or outdoor modular miniature golf course for use by campgrounds, hotels, special events, fund raisers and rental companies, and many other users with limited budget and space. It's the perfect solution for the client who has limited or restricted space or a need for a more portable course, and features specialty holes that can be purchased to replace individual golf holes in the standard model.

9 holes: 1,500 square feet

18 holes: 3,000 square feet

SplitShot® – Creates more fun for each putt on the course. AGS has created a proto-type model which has multiple split-shots in different directions from tee-to-green and green-to-green on every golf hole. Players have a choice of multiple paths to the golf hole cup, hence the name SplitShot®

9 holes: 1,800 square feet

18 holes: 3,600 square feet
AnywhereLinks Jr.® – Contains new hole designs offering more visual character and enhanced playability in addition to slightly smaller golf holes to fit smaller spaces and lower the price point.

9 holes: 3,500 square feet

18 holes: 7,000 square feet
Get a Custom Modular Mini Golf Course
We can create custom modular mini golf courses for specific needs such as marketing programs, stadiums, entertainment venues, and cruise ships. Our talented artists, designers, and builders can create virtually anything you can imagine.
And be sure to check out our Modular Advantage® mini golf system, which uses interlocking panels to provide the look and feel of a concrete miniature golf course at less cost.
Want the ultimate in portability? Then be sure to see our Rollout™ Mini Golf. Its set of portable mini golf holes – each weighing less than 50 pounds – can be quickly rolled out by one person whenever and wherever you wish.
Adventure Golf Services offers the world's largest collection of modular, portable miniature golf products at a variety of price points. AGS is a global leader with more than 35 years experience in designing, building, and installing indoor and outdoor miniature golf courses. Call us today!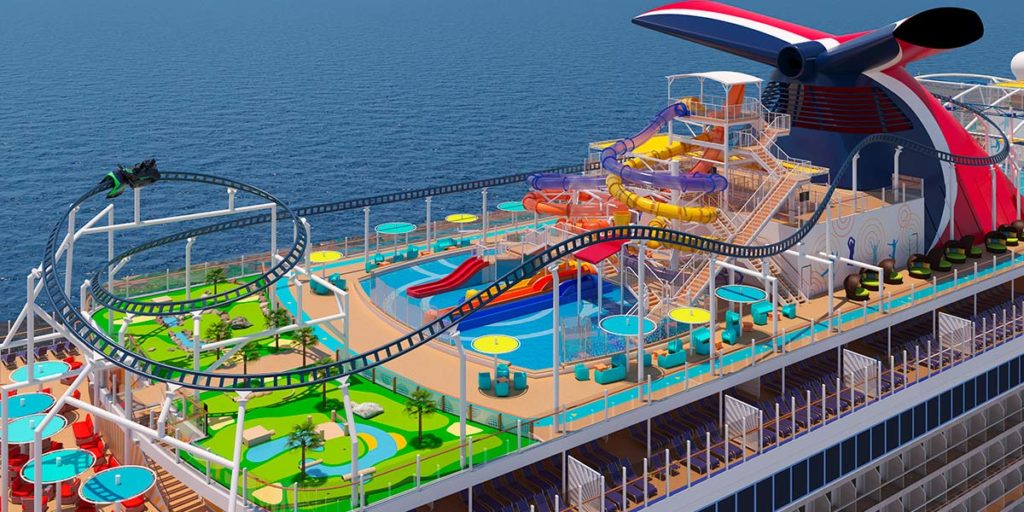 Resource Links
OUR RECENT PROJECTS
Fairchild AFB, WA

Mini Links Golf Course
VIEW PORTFOLIO
TESTIMONIALS
""Ease of installation was high on our list as well. We saw where they could put it down in a parking lot if you so choose, so we thought – 'Wow! How easy is that?' Just snap these (interlocking panel) pieces together and you've got yourself a course…"

Romp's Putter Port

"All ages have enjoyed (the MiniLinks course) and we normally have a line waiting to play on weekends."

Orlando World Center Marriott

"I thought if we did pop-up mini golf, we could lease out an area for a month, two months tops, and then we could do mobile events like birthday parties and control our schedule… "It's really a fun thing. I'm glad I did it. It was a little bit harder than I thought it was to put the mini golf course together, because it was just my husband and me. But we did it! …(MiniLinks) is like a Lego set where the turfs for each hole are numbered."

Caddy's Course