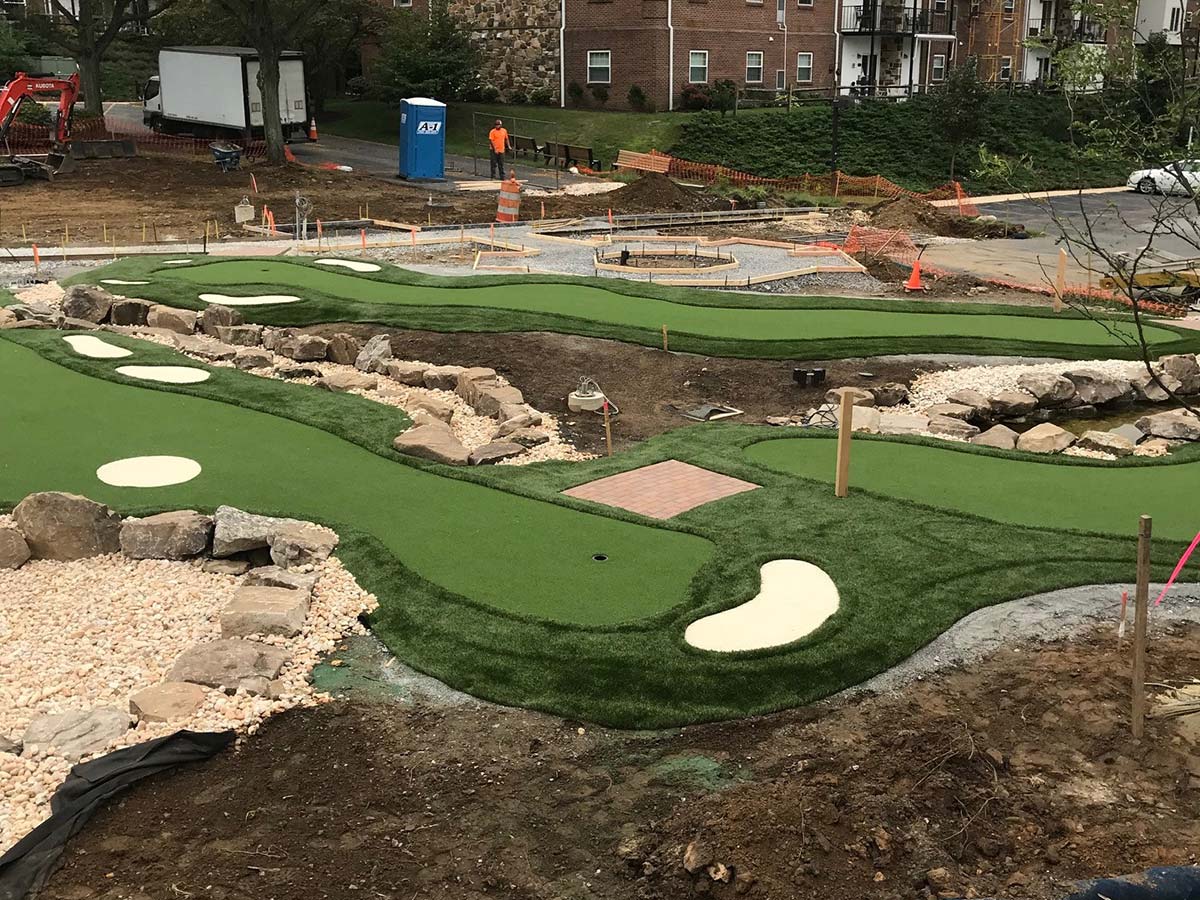 Modular Advantage® Mini Golf System Offers Savings, Versatility
Using patented interlocking panels, the Modular Advantage® mini golf system provides the look and feel of a concrete miniature golf course with faster installation and less maintenance, saving you money.
The system also offers "green" benefits, since the flexible panels are made of recycled materials and are permeable for water drainage. In addition, a Modular Advantage course can be installed where ground remediation may be too expensive.
The versatile system also can be moved. For example, a retail center might install the course in an unleased space, then move it to another unleased space when the original space is leased.
Its numerous advantages make the Modular Advantage system perfect for a wide range of venues, including:
Amusement parks and attractions
Cruise ships and riverboats
Hotels and resorts
Retail centers
Parks and campgrounds
The standard Modular Advantage mini golf system provides 4,000 square feet of playing space. Larger, custom sizes are also available. All courses are ADA compliant.
We're so confident the Modular Advantage system will hang tough season after season that we offer a five-year warranty. That compares to a one-year warranty typically offered for concrete courses.
Contact us today to discover how Modular Advantage mini golf can make your facility more attractive and profitable!
Resource Links
TESTIMONIALS
"We had all these trees on the property we purchased to build the course on, and the Modular Advantage® system from Adventure Golf & Sports became a huge benefit to us…We didn't have to dig in the ground and cut into tree roots, so we were able to tuck this course under the trees…You have no initial expense of having to excavate or doing extensive prep work. And it doesn't take nearly as much time for installation and completion."

Cen-Tex Mini Golf

"We wouldn't have met the construction schedule if it had not been for the use of the (AGS) Modular Advantage system. It had advantages over poured concrete as a base material and advantages over sand…The feel underfoot is such that you would not have a sense of exactly what is underneath the turf. There's no flex or give when you walk on the course."

Acts Continuing Care Retirement Community