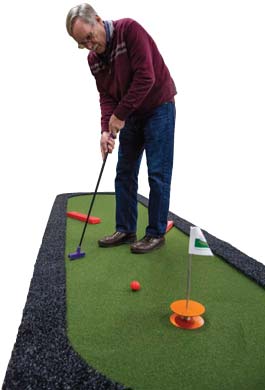 (Traverse City, Michigan) — Adventure Golf Services (AGS) is introducing "RollOut™ Mini Golf" – a portable set of miniature golf holes specifically designed for those who may wish to travel with a miniature golf course or install one temporarily. Available as a 9-Hole Set or 3-Hole Party Pack, it is ideal for party rental and special events businesses, as well as pop-up stores or any business seeking a portable attraction they can easily store, move and roll-out when needed!
The RollOut Mini Golf system will debut at the IAAPA Attractions Expo Booth #4231 November 18 – 22 in Orlando, Florida.
RollOut Mini Golf features rectangular miniature golf holes, each 15' long by 4' wide. Within the rectangle, a golf hole shape is defined by two turf sections: a green putting turf and a separate black rough turf mounted in place. Each hole comes with a golf cup that can be moved anywhere on the green. According to Adventure Golf, the new RollOut system is more portable than any other system because each hole:
Weighs less than 50 pounds.
Is easy to transport in a storage bag with wheels
Comes with three AGS Soft Rubber putters (27", 29" & 32" lengths) and four multi-color miniature golf balls.
Separates into two sections (green and rough), and can be quickly rolled-up or out for play.
According to AGS, the 9-Hole Set includes 27 putters, 36 miniature golf balls and is priced at $9,999 plus shipping. 3-Hole Party Packs include 9 putters, 12 miniature golf balls and are priced at $3,600/pack plus shipping.
An optional set of colorful AGS obstacles are available for each golf hole to make the game more fun, as the obstacles can be moved around to change the game. Price of the 9-Hole Obstacle Package is $1,325 plus shipping. Price of the 3-Hole Party Pack Obstacle Package is $598 plus shipping.
"RollOut Mini Golf continues our growth as the world's leading miniature golf provider," says Scott Lundmark, President of Adventure Golf Services. "Miniature golf has always been an in-demand, family-friendly attraction and RollOut Mini Golf makes it significantly easier to feature this activity wherever and whenever desired."
AGS is a global leader in the design, fabrication and installation of fun, interactive, cost-effective entertainment attractions like Miniature Golf, Pickleball, Shuffleboard, Bocce Ball, Croquet & other recreational courts. Besides traditional concrete-poured permanent installations, AGS has long term experience installing interlocking panel system versions on rooftops, cruise ships, indoor waterparks, and other outdoor applications, such as amusement parks, family entertainment centers, hotels and resorts, and other attractions. RollOut Mini Golf now expands AGS products to entrepreneurs and a variety of businesses who want to offer a fun, portable attraction.
For more information about the new RollOut Mini Golf system, email info@agsgolfandsports.com, call (231) 922-8166 or visit www.agsgolfandsports.com.