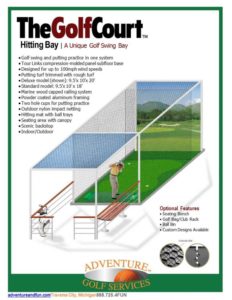 Traverse City, MI….GolfCourt® Hitting Bay, a golf driving cage to improve golf skills is announced by Adventure Golf Services.
"This is a unique golf design that, when compared to other golf driving cages, has an improved appearance with multiple golfing activities. The first unit is scheduled for installation on a new cruise ship being launched this Fall," comments Scott Lundmark president Adventure Golf Services, "The GolfCourt Hitting Bay is perfect for indoor / outdoor golf practice / training facilities, resorts, family entertainment centers, military bases and any other venue targeting golf oriented practice and entertainment."
"The Deluxe Hitting Bay features, a fabric golf scene located behind the back impact driving net to entice golfers into more target oriented swings and immerse the user into a golf environment. This model includes a guest viewing area with an overhead sunscreen canopy and a marine wood-capped rail surrounding the viewing area."
The Deluxe model includes a putting green with two hole-cups surrounded by a free form rough turf, a driving mat with adjustable tees and a chipping area. Both the Deluxe and Standard products replace old style, grey fence posts with a white powder coated aluminum frame and a guest viewing area, according to Lundmark.
The Standard Hitting Bay measures 9′ 6″ W x 11′ 9″ H x 18′ L. The Deluxe Hitting Bay measures 2 feet longer with a slightly different railing design and retails for approximately $32,000 plus installation / shipping. Custom designs are also available.
Certain customers, such as outdoor installations, share a concern for light weight products that are functional, do not deteriorate easily, and can withstand extreme temperature and wind conditions," comments Mike Arnold project manager. "This light weight design is engineered with a framework, which withstands 100 mph winds. The putting green surface is mounted onto a molded panel system creating a base that drains well and permits the introduction of two hole cups."
Adventure Golf Services is a global leader in the design, fabrication and installation of golf oriented products, miniature golf courses, puitting greens, shuffle board, bocce ball and croquet courts and golf driving cages.
For more information visit: www.agsgolfandsports.com or call 888-725-4fun or 231-9322-8166.