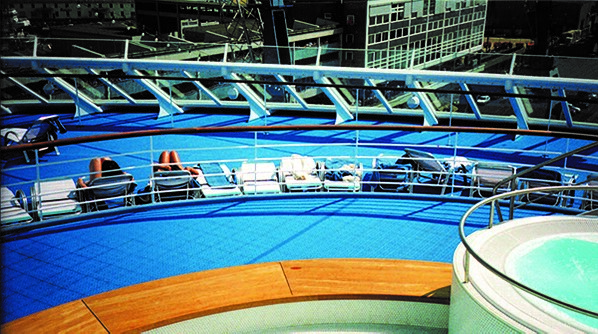 (Traverse City, Michigan) — Adventure Golf Services (AGS), exhibiting at the Cruise Ship Interiors Expo in Miami (Booth #327 – booth phone: 231-715-6942), is seeing rapid growth in the design, fabrication and installation of miniature golf on cruise ships. As the leading international supplier of miniature golf and other sport and entertainment products for cruise ships for more than 15 years, AGS has also recently been named to distribute and install the Bergo® marine flooring system for ship decks, balconies and other exterior flooring needs.
Within the last 6 months, AGS has completed projects for American Cruise Line, Carnival, Costa Venezia, Oceania, Royal Caribbean and Thomson Cruises and the company is scheduled for another six installations in the next 12 months, notes Scott Lundmark, president of Adventure Golf Services.
These products include miniature golf, putting greens, GolfCourt® hitting bays, Bimini ring toss, pickleball, shuffleboard, bocce ball courts, baggo/corn hole, croquet and other recreational courts, as well as decorative equipment storage benches. The quality and acceptance of these entertainment products by cruise lines and their guests has given the impetus to develop new products. Currently in R & D is an indoor or outdoor archery range, and a modular and portable miniature golf course which can be moved in and out of certain areas as needed, since space is a premium and there may be need to use these same spaces for multiple activities.
According to Mike Arnold, Vice President of AGS' Cruise Ship Division & Modular Systems, "Miniature golf is a fun, interactive entertainment that's appealing to all ages. We're seeing an increasing number of cruise lines include all of our entertainment products on their new builds, renovations, and revites, thanks to what many Entertainment Directors say are our innovative custom designs, light-weight durable system with a proprietary anchoring system, in-house fabrication, experienced turnkey crews and our high-touch customer service."
Because of Adventure Golf Services expertise in the cruise ship industry, Bergo Flooring recently selected Adventure Golf Services to strengthen Bergo's marine business.
Bergo has almost 50 years of experience creating a decking product that has minimal fade, can withstand the hot and cold climate cycles, has excellent drainage, is slip resistant, and has sound absorbing characteristics. Adventure Golf will use Bergo products in entertainment areas, pools, suite balconies, sports decks and other exterior decks.
According to AGS, working with shipyards all over the world, with long timelines, lengthy shipping and rapid mobilization is an acquired skill. Says Mike
Arnold, "Most of our work is on upper decks which are not available for installation of our products since those decks are used to stage materials for other work. Our crews are usually one of the last ones on the ship and we have to be fast, efficient and complete jobs quickly, usually in less than two weeks."
Based in Traverse City, Michigan, with offices in Chicago and Florida, AGS is also scheduled to exhibit at the Cruise Ships Interiors Expo in Barcelona, Spain in December this year.